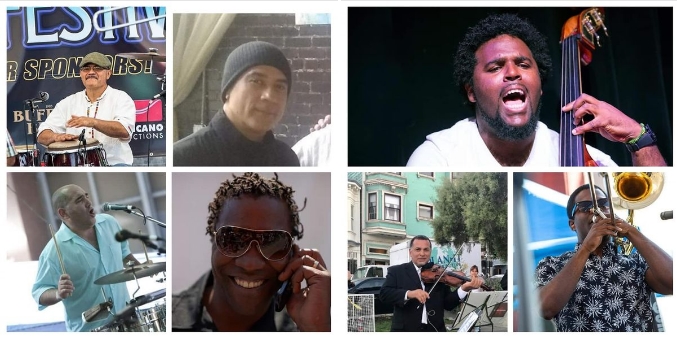 RICKY'S GRUPO AFRO-NATIVO
Ricky Aguilar (band leader - congas)

From San Francisco Mission District has played with various groups of the area including Mazacote which is Louis Romero's group who is one his teachers various teachers from Cuba and Puerto Rico his main education is in Afro-Cuban folklore jazz and son studied in Cuba for short time.
Felix Samuel (lead singer)
From Havana Cuba his father who was a famous singer from popular group (Ritmo Oriental) Felix began singing at age 9 many popular charanga groups regularly performed at hotel Nacional de Cuba in Havana also toured with many groups to Mexico South America Rome Portugal and Beyond he's performed extensively in Bay Area he is currently lead singer for Cuban Group Los Boleros.
Julio De La Cruz (piano)
From Havana Cuba graduate of Amadeo Rodan Music School in Cuba specializing in percussion simultaneously studying music theory and composition he taught percussion at Sancti Spiritus Cuba toured with the great Puerto Rican singer Jose Feliciano in many countries spend some years in Mexico which included playing with Toby Keith Sammy Hagar and much more he's currently bass player for Bay Area grammy-winning band Pacific Mambo Orchestra.

Ernesto Mazar (Bass)
From Santiago de Cuba 2004 attended Instituto Superior Del Arte has degree classical double bass Ernesto has also taught at Escuela Nacional de Arte in Cuba he's recorded and played with top bands from Cuba and United States too many to mention he is currently bass player for internationally known group from Cuba Charanga Habanera.

Carlos Caro (timbales)
From Guanajay Cuba graduate of Escuela Nacional de Arte Cuba taught at San Francisco Conservatory of Music many collaborations include Eddie Palmieri, Sheila E, Carlos Santana just to mention a few Latin Grammy in 2014 and 2015 EGREM award 1992 currently main percussionist for Tigres del Norte World Turing group.

Anthony Blea (violin)
From San Francisco California started studying at 8 years old went to the San Francisco Conservatory of Music bachelor's degree at Manhattan School of Music New York Masters at San Francisco Conservatory he's played and recorded with a lot of greats including Israel Lopez (Cachao) Ray Charles, S F Opera Orchestra, John Santos, just to name a few he's also played with Stevie Wonder teaches at San Francisco City College and has his own group Anthony Blea y Su Charanga.

Obrayan Calderon (trombone)
From Santa Cruz Del Norte Cuba arrived here in 2018 graduate of Escuela Nacional de Arte trombonist for orchestra Adalberto Alvarez plays with many groups from the Bay Area and around US also his own group.